MEDI+KURIN's PettoGard Wound & Disinfectant Spray helps you to tend to your furkid's wounds and skin problems
A common problem a pet parent faces with their pets is chronic skin problems and injuries that don't seem to heal. This can range from hair loss, flaky skin, fungal infections (a very prominent issue for cat owners!), bites, scratches and wounds. Your vet probably prescribed strong medications and ointments to be applied on your pets, but you should know that you have to actively disinfect your pet's wounds too! Not to mention, some of these medications might be harmful if ingested by cats and dogs.
Still, wounds or fungal infections can come back over time thanks to our furry friend's messy and playful habits. That's why it's a good idea to keep MEDI+KURIN's PettoGard Wound & Disinfectant Spray for Cats and Dogs around!
How MEDI+KURIN's HOCl helps with healing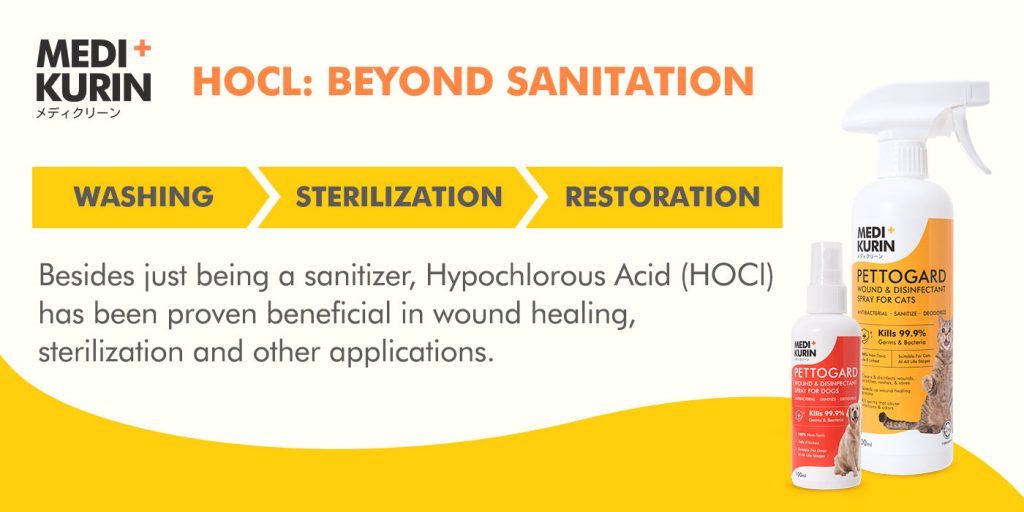 First and foremost, MEDI+KURIN's PettoGard Wound & Disinfectant Spray is a Hypochlorous Acid (HOCl)-based solution that can be used to flush out wound debris, promote faster wound healing and prevent further infections! Our product does so by killing off harmful germs, biofilms and fungus that prevent skin from healing.
Hypochlorous Acid disinfectants are also lab-tested to help humans and animals in wound cleaning. And it's also a better alternative to iodine when it comes to wound irrigation, as it kills off harmful microorganisms that hinder wound healing!  Thanks to our patented Japanese electrolyzed water technology, MEDI+KURIN's HOCl Pettogard Wound & Disinfectant Spray is non-toxic and contains no harsh chemicals, such as steroids, phenols, synthetic fragrances, chemical solvents, essential oils and dyes, that might further irritate your pet's already sensitive skin. That means that it is safe if licked- so you don't have to worry if your cats and dogs groom themselves.
Get to know more about this easy-to-use at-home treatment for your pets, here: MEDI+KURIN PettoGard for Dogs & MEDI+KURIN PettoGard for Cats
Allowing your pet's body to focus on the healing process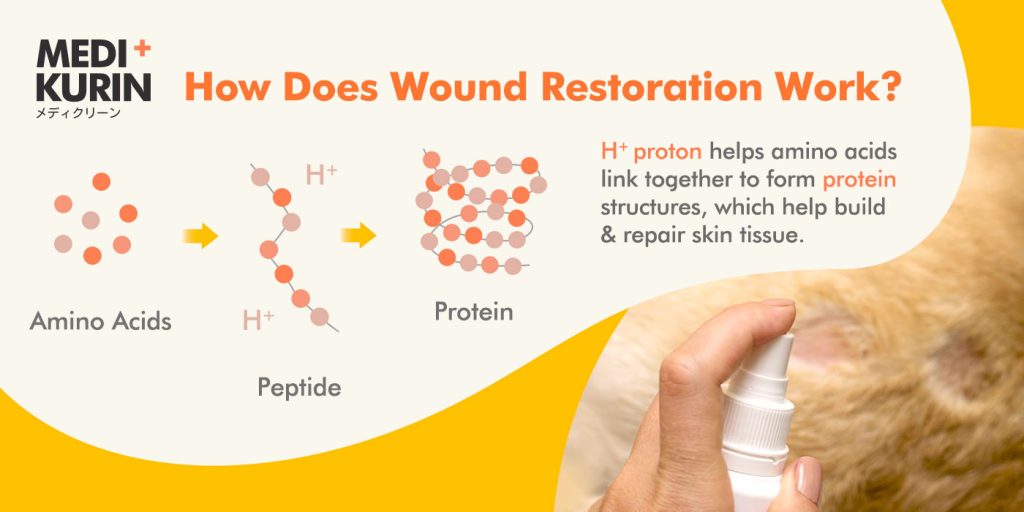 This is how wound healing works: amino acids will combine together to form peptide structures that group and eventually become the protein that tissues need to repair itself with. Another process also takes place during the wound healing process- the process of proteolysis.
At the cellular level, the wound healing process revolves around proteolysis- the process where protein enzymes work hard at breaking down harmful biofilms to produce and make room for new cells to form. This process is usually aided by the body's immune system, ensuring that the affected area does not have harmful microorganisms that worsen your pet's condition.
However, knowing our pets, keeping the wound area clean throughout the day is not always easy. That's why this process can be sped up with a daily rinse of MEDI+KURIN's PettoGard Wound & Disinfectant Spray to rid the wound of pathogenic microorganisms that disrupt the wound healing process!
Some of MEDI+KURIN's customers gave MEDI+KURIN's Pettogard Wound & Disinfectant Spray for Cats and Pettogard for Dogs a try and are happy with the results!
"I have been using MEDI+KURIN's PettoGard for Cats for two days and so far the results are good! I have been spraying on my cat's bodies because they have fungus on their fur. Positive results, less fungus on their fur. I will definitely repeat the order. Thank you"


Noyazhari, MEDI+KURIN PettoGard user

"Good for my dog's infection. After 3-4 days of using MEDI+KURIN's PettoGard for Dogs, I can see its skin condition improve."


Shirley, MEDI +KURIN PettoGard user

Care for your pet's wounds with ease
Every pet owner will encounter a point of time whereby they need to give their furkids at-home care, be it after a scratch, wound or fungal infection, or hereditary skin problems. Therefore, it's a good idea to keep MEDI+KURIN's PettoGard Wound & Disinfectant Spray at home, as it promotes faster wound healing and prevents future infections. What's more, this HOCl disinfectant not only protects your pets, you can also use it to keep their living areas, food bowls and bedding sanitized AND deodorized.
Take care of pet wounds and infections effectively with this multi-purpose, pet-friendly, HOCl-based disinfectant spray!
References
Kuwabara, Masahiro, Masayuki Ishihara, Koichi Fukuda, Shingo Nakamura, Kaoru Murakami, Yoko Sato, Hidetaka Yokoe, and Tomoharu Kiyosawa. "Disinfection of Pseudomonas Aeruginosa-Infected Wounds in Diabetic Db/Db Mice by Weakly Acidic Hypochlorous Acid." Wound Medicine 23 (2018): 1–5. https://doi.org/10.1016/j.wndm.2018.09.001.
Robson, Martin, and Wyatt Payne. "(PDF) Hypochlorous Acid as a Potential Wound Care Agent …" ResearchGate. PubMed, 2007.https://tinyurl.com/eenvzk6x
Wongkietkachorn, Apinut MD; Surakunprapha, Palakorn MD; Wittayapairoch, Jakrapan MD; Wongkietkachorn, Nuttapone MD; Wongkietkachorn, Supawich MD. The Use of Hypochlorous Acid Lavage to Treat Infected Cavity Wounds, Plastic and Reconstructive Surgery – Global Open: January 2020 – Volume 8 – Issue 1 – p e2604 doi: 10.1097/GOX.0000000000002604