Description
Soothing Shampoo Designed to Maintain a Healthy and Beautiful Coat
Did you know that your furry friend can experience allergies just like you?
Skin allergies can leave your pets feeling uncomfortable and itchy. These allergies can also result in skin irritation, redness, sores, and hair loss. PettoGard® Hypoallergenic Foam Shampoo for Dogs & Cats can help retain moisture and prevent your pet's skin and coat from drying out. This shampoo also aids in reducing inflammation, healing wounds, and stimulating new skin cells to grow to support skin damage repair. PettoGard® gives the best care in every wash.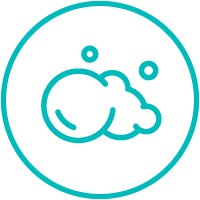 Foams Instantly For Optimal & Deeper Cleanse
Designed for optimal coverage and easy application, the shampoo foams immediately after being pumped out from the bottle so that you can conveniently lather the shampoo onto your pet's coat without further need to scrub and rub. On top of a gentler bathing experience for pets, the foaming application gives your furry family a deeper cleanse that nourishes and conditions the skin.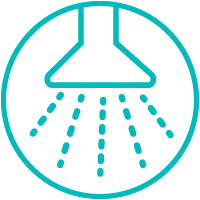 Easy Rinsing to Make Bath Time Faster and Easier
If your furry friend has severe anxiety or nervousness around bath time, you want to make bath time faster and less stressful for them. Our foam shampoo makes rinsing easy and bath time a breeze to help lessen our pets' feelings of stress.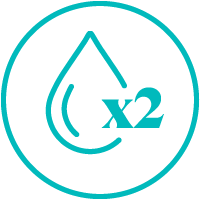 More Washes, More Saving With The Price of One
When you bathe your pet with our foam shampoo, you can reduce water usage and get more washes per bottle – all of which are more cost-effective for you in the long run, on top of reduced packaging usage and negative impacts on the environment.
More reasons to choose PettoGard® Hypoallergenic Foam Shampoo

Non-irritating, anti-inflammatory ingredients

Neutral, light fragrance that keeps pet smelling fresh

Gently conditions skin to ease discomfort

Optimized to retain essential skin oils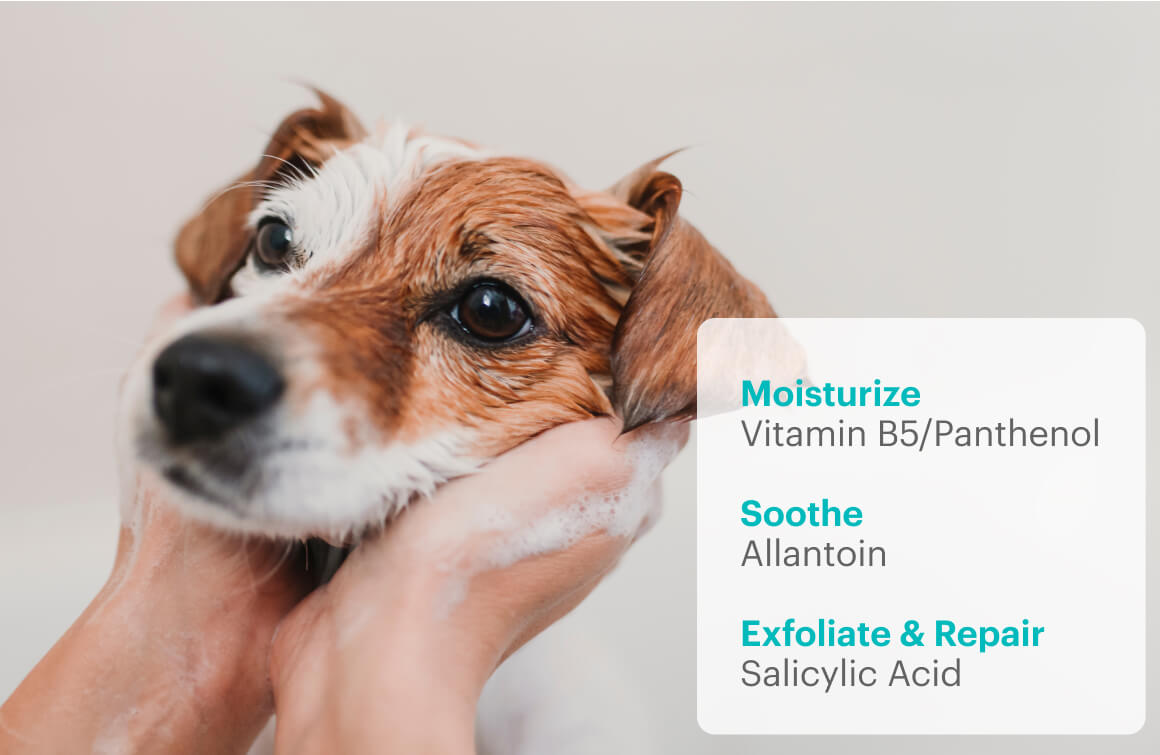 Triple Action Formula
Moisturizes, Soothes, and Repairs Pets' Skin Cells To Help Grow Beautiful Coats
Our shampoo is formulated with gentle ingredients that meet the basic requirements to aid sensitive, irritable skin to repair itself. Completely free from harsh chemicals, our pH-balanced shampoo formula creates a conducive environment for skin cells on dogs and cats to heal and regenerate, without stripping natural oils from your pet's skin or drying it out.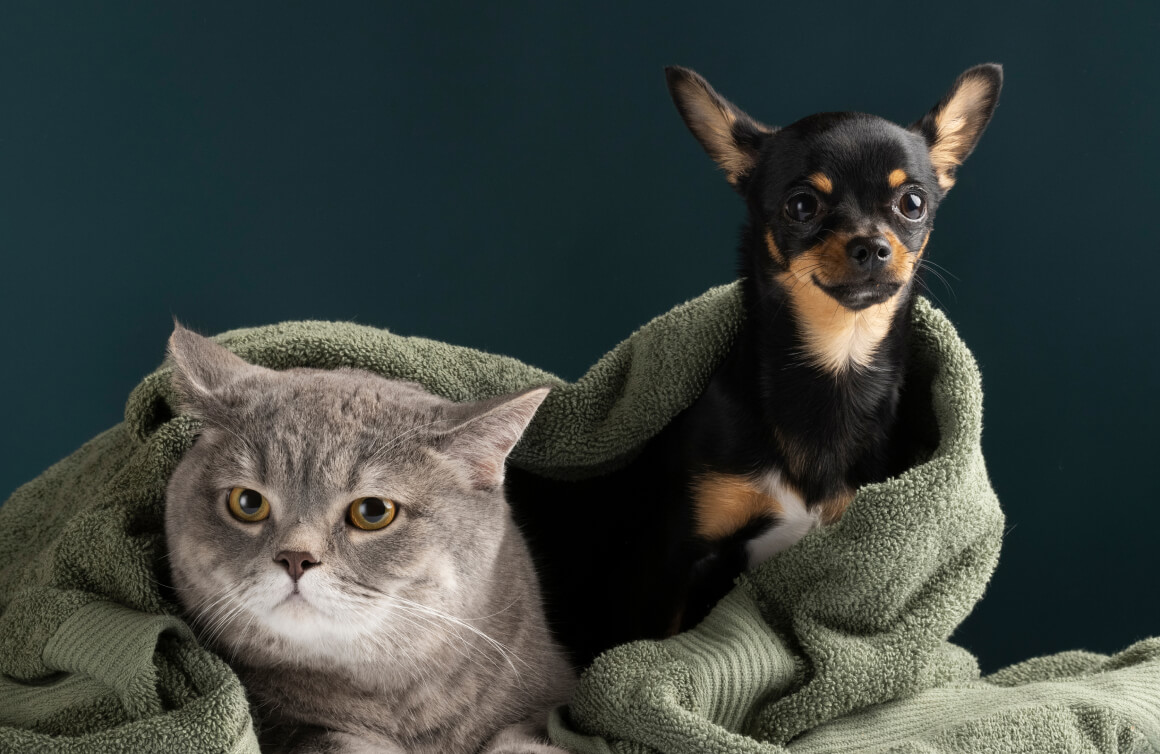 Triple Action Formula
For Pets with Sensitive Skin
It is common for dogs and cats to have sensitive skin, and it can be caused by many factors such as allergies and weather changes. Some of the most common signs include excessive scratching. If your pet is scratching itself more than usual, this could be an indicator of skin allergies or other dermatological problems.
Our shampoo has antibacterial properties to rid pet skin of bacteria and prevent infections from forming. It is recommended for pets with hot spots, itchiness, irritation, dry skin, dermatitis, skin allergy symptom, and other skin ailments.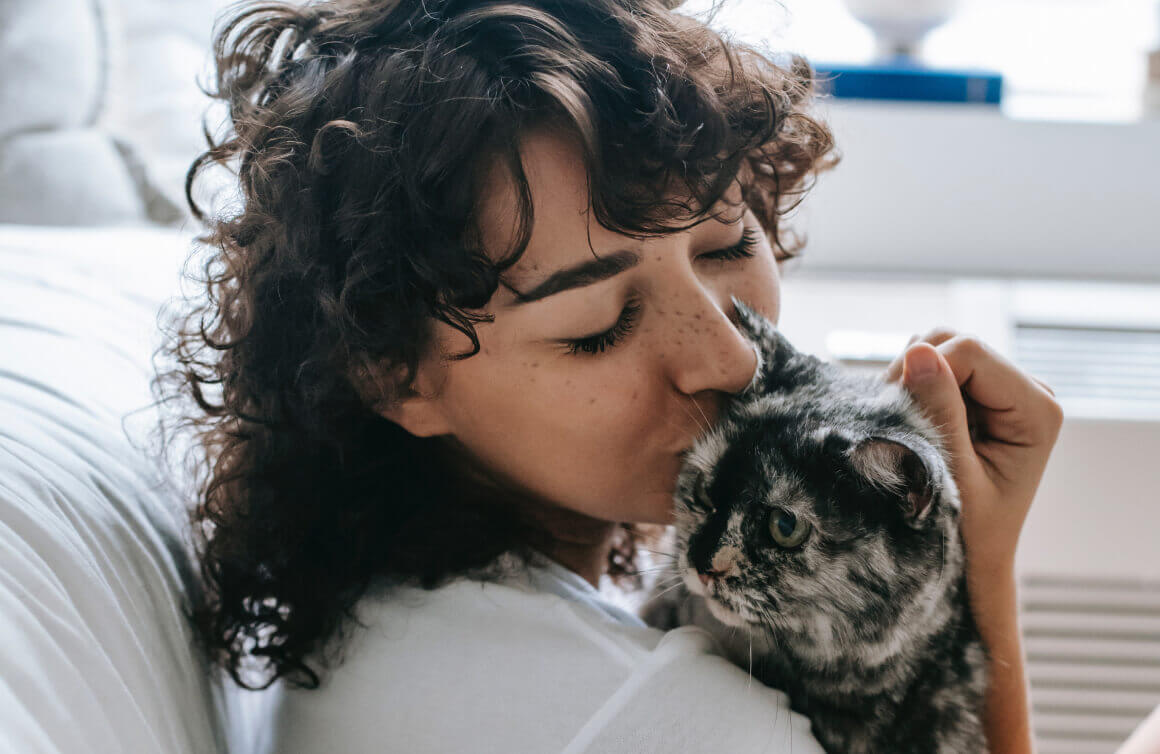 Removes Unpleasant Odors From The Coat Due To Infection & Excess Oil
Unpleasant odor on your pets can often be a secondary consequence of allergies and associated yeast and bacterial infections. This shampoo helps to control bacterial and yeast infections linked to the malodor caused by secondary seborrhea, a skin condition caused by overproduction of oil.
Use PettoGard® in Your Pet's Skincare Routine
Clean, treat, and heal with our range of solutions
PettoGard® Wound & Disinfectant Spray is not just for injuries! Use it as a daily spray on your pet in conjunction with regular baths as part of a healthy skin routine.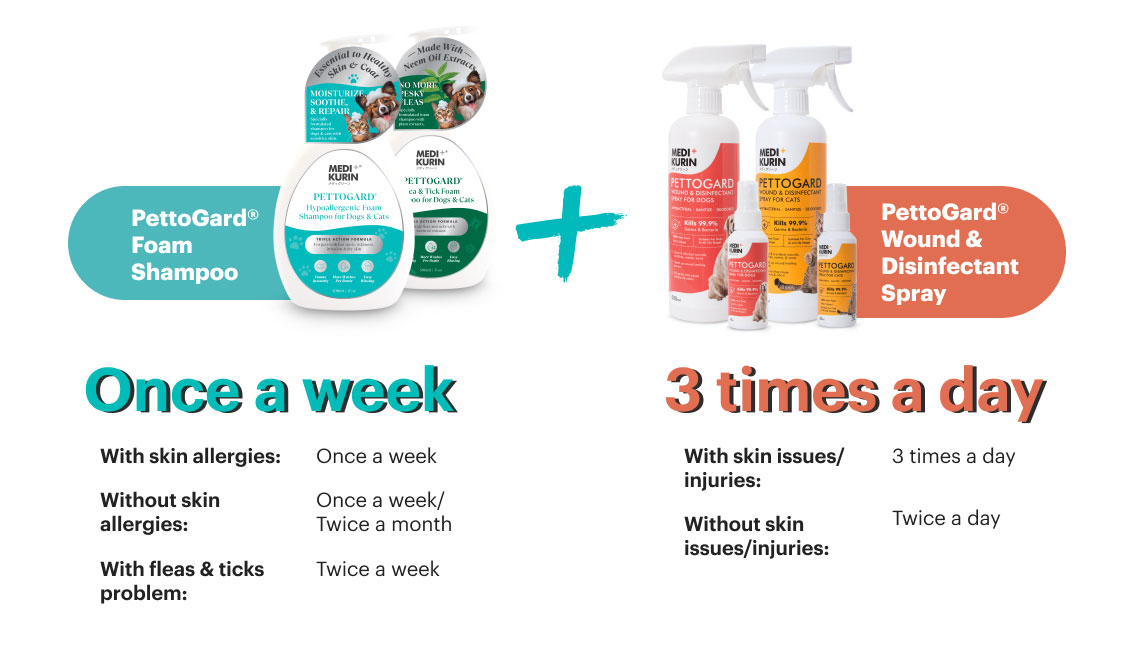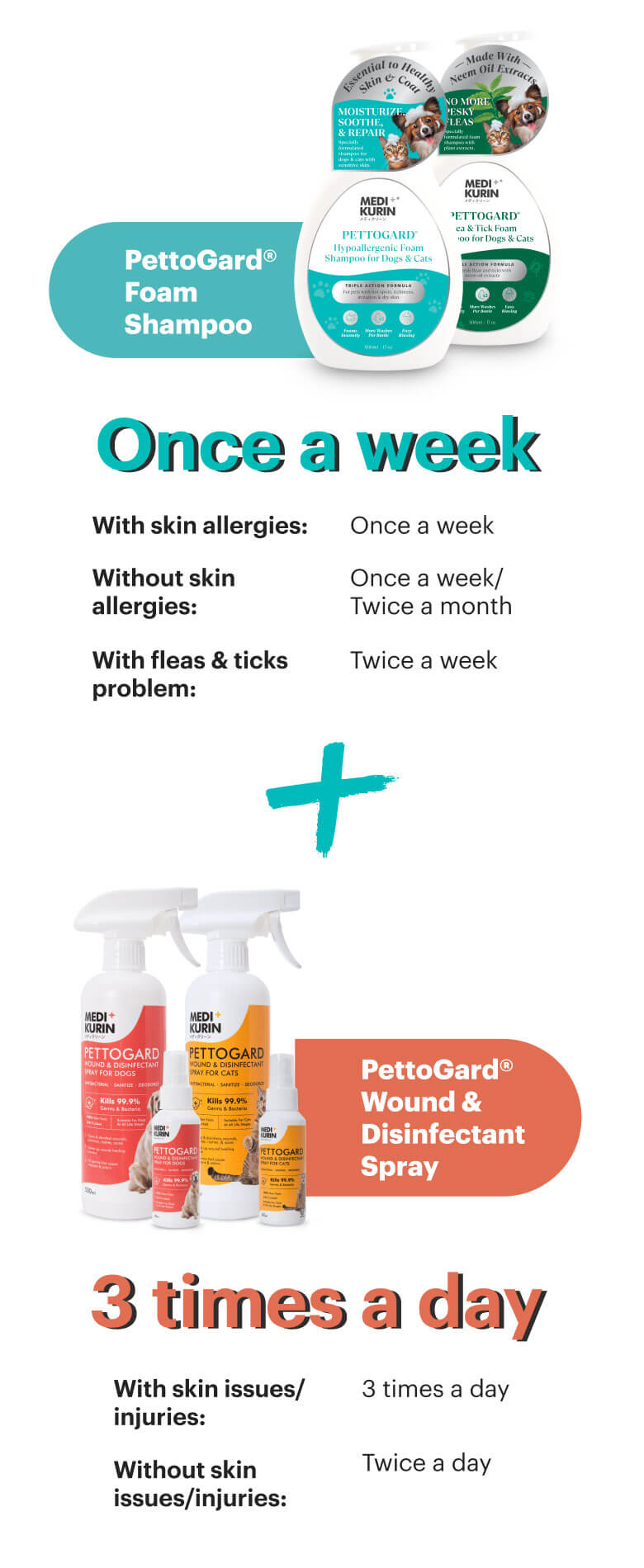 How to use
Easy on, easy off foam shampoo.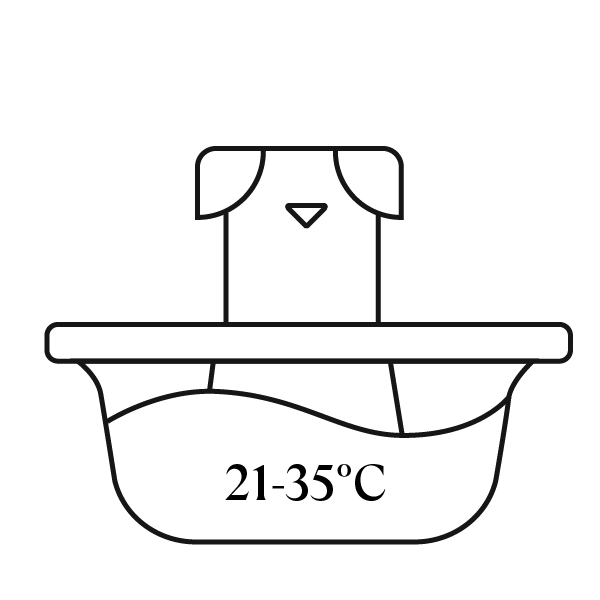 Step 1
Wet your pet with warm water thoroughly.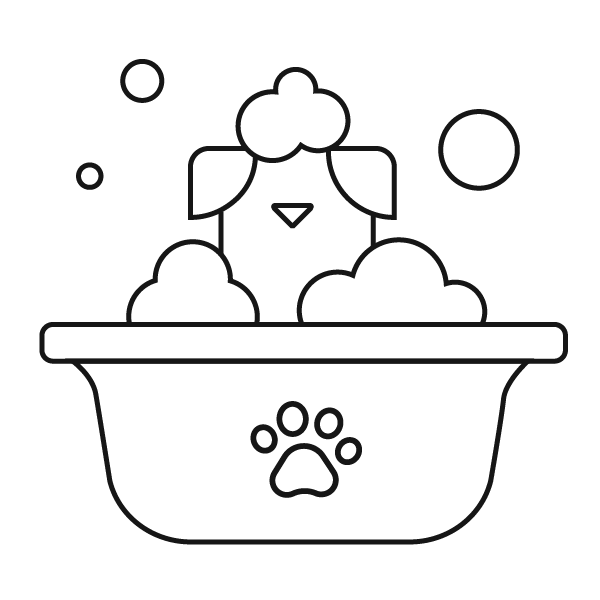 Step 2
Apply the shampoo evenly on your pet and lather into their coat.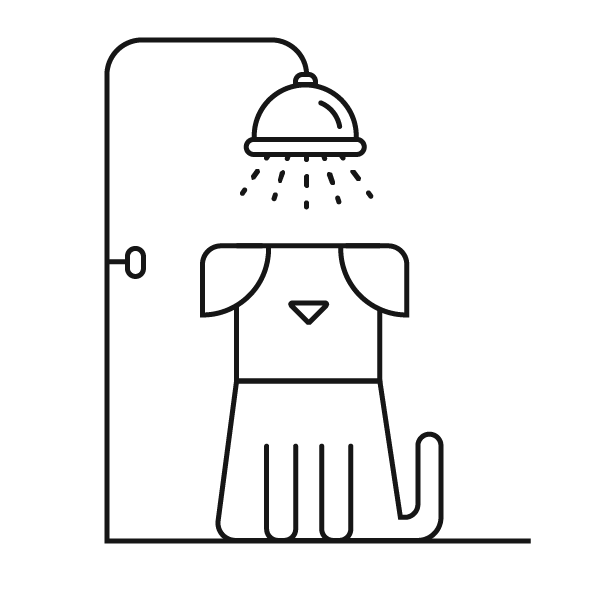 Step 3
Rinse thoroughly to wash away foam shampoo from pet's coat.
*If skin condition persists, consult a veterinarian.
Tips for washing pets with sensitive skin
DOs

DONTs

Use lukewarm water between 21°C to 35 °C.
Brush your pet before bathing to untangle their coat and to remove dirt and debris.
Rinse your pet thoroughly to remove all shampoo.

Don't bathe your pet with hot water - what's comfortable for you may not be so for them, and hot water can further irritate or damage their skin.
Don't bathe your pet every day unless recommended by your vet.
Don't use human shampoo for your pets.
Frequently asked questions
Things You Should Know
Explore our archive of articles for important news and general advice to help you make the most out of our products.