Costly medical bills are among the most burdensome funds for pet owners – here's a complete guide on selecting reliable pet insurance in Malaysia.
The Importance of Pet Insurance
Pets hold a special place in our hearts, becoming cherished members of families. As pet owners, we naturally want what is best for them, and that includes ensuring their protection and well-being. Just as we have health insurance for ourselves and our human family members, it is equally important to consider pet insurance as it covers veterinary expenses – which can be very expensive in the event of accidents or health issues that may arise. 
As much as we want to sweep the thoughts under the rug, the reality is that unexpected accidents can happen. A pet insurance policy acts as a valuable safety net, offering pet owners financial coverage and alleviating the worry of potentially costly treatments, not to mention the dilemma of deciding whether to take our pets to the vet for a check-up! 
In more dire cases, pet insurance has made all the difference; saving or extending the lives of many pet owners' beloved companions.
Like a helpful friend, pet insurance offers financial assistance by reimbursing you for unforeseen veterinary bills that pop up due to accidents, injuries, and illnesses. To access the benefits, you basically pay a small monthly or annual premium to the insurance company, and they share the risk with you by covering some of your beloved pet's medical expenses.  
The reimbursement process usually operates like this: When you visit the vet, you pay the bill upfront first and then submit a claim to the insurance company to request the reimbursement that your policy entitles you to.
Remember, not all pet insurance is the same, so you should check what they cover and how much they cost. Like any other type of insurance, policies for pets can vary in terms of cost and coverage options.
Of course, there are also comprehensive insurance policies in the market, and these policies cover a wide range of costs incurred from accidents and medical services such as:
Post-Surgical Treatment
Surgical Fees
Consultation Fees
Diagnosis/Blood Test/X-ray/Ultrasound
Prescribed medication
Clinic overnight stay, and more
Thus, it is crucial to review and understand the specifics of your pet insurance policy to ensure the right fit that meets the needs of your furry friend.
The Importance of Pet Insurance: Is it Worth it?
As financially responsible as one can be, medical expenses can still quickly accumulate, causing stress and uncertainty that could affect other areas in your daily life. If your furry friend runs into any health problems, the veterinary bill could set you back up to RM5,000 for hospitalization and treatment! 
This is where pet insurance comes into play, offering various benefits that allow you to prioritize your pet's health without stressing over the financial burdens of keeping your beloved furry friend safe and sound.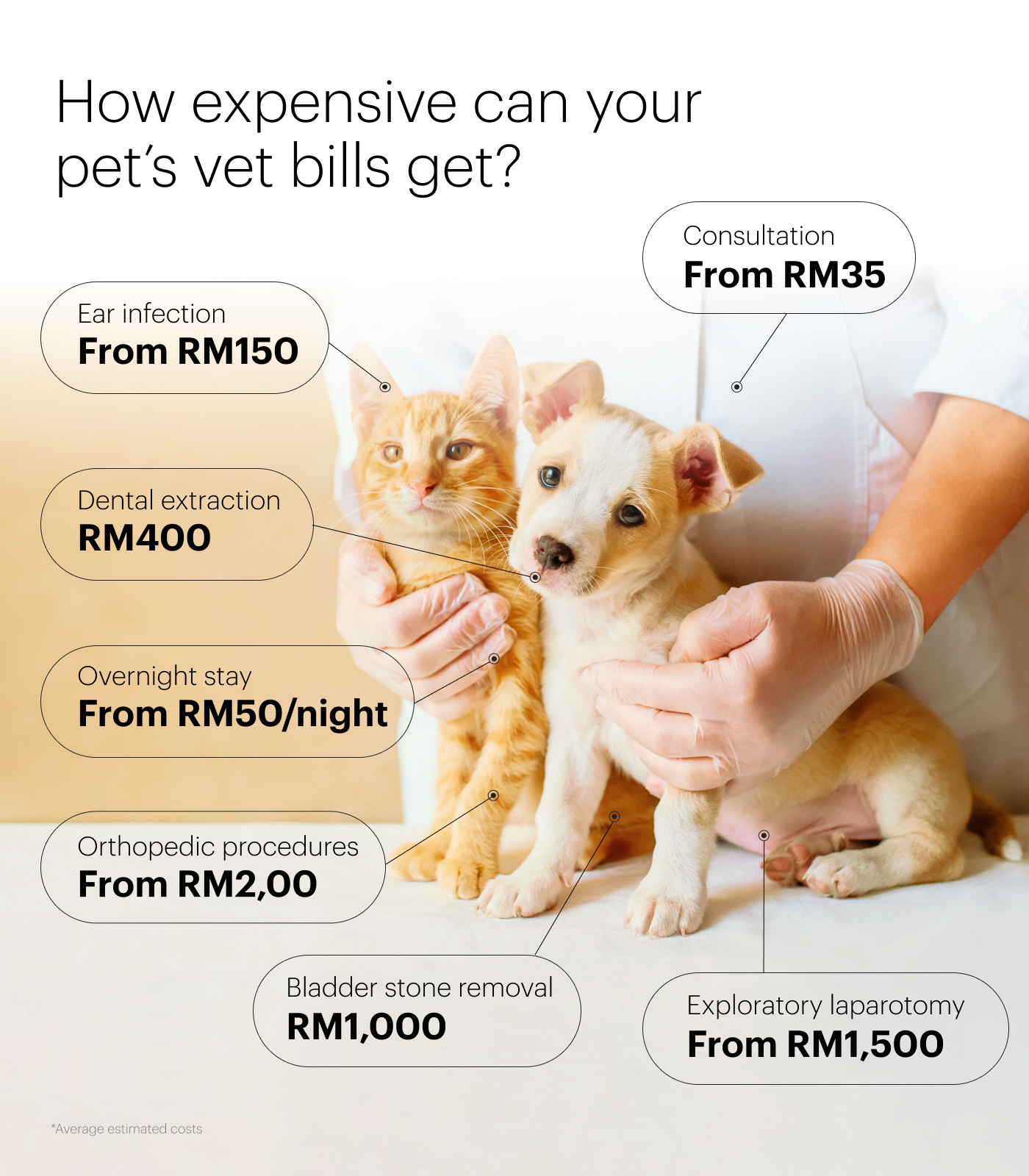 3 Reasons Why Getting Pet Insurance is the Smart Thing to Do
1. Allows you to prioritize your pet's health
One of the biggest advantages of pet insurance is that it allows you to focus on your pet's well-being rather than the financial implications of medical treatments. Having the peace of mind knowing that the bills are covered by pet insurance, you can engage in conversations with veterinarians about the most appropriate and effective treatments for your pet, without constantly worrying about the cost, helping you make decisions based solely on what is best for your furry friend.
2. Reduce costs of medical procedures and treatments
Pet insurance can cover a significant portion of your pet's medical expenses. Depending on the coverage and eligibility terms, you may be eligible to claim reimbursements up to 70%, 80, or even 90% of the veterinary costs. This means you no longer have to dip into your savings or struggle to come up with the cash when your pet requires essential medical care.
3. Allows flexibility in choosing a vet
Another notable advantage of pet insurance is the freedom it provides in selecting a veterinarian for your pet. Unlike some human health insurance plans that only allow policyholders to seek treatment at selected panels, pet insurance allows you to seek care from any licensed veterinarian of your choice (or your pet's). Simply submit the veterinary bill to your insurance provider to receive reimbursement according to your policy terms. This flexibility ensures that you can access quality care for your pet.
What to Look for in a Pet Insurance Policy
Here's a pro tip: always consider these key factors when selecting a pet insurer to cover your furry friend. Here, we've put together 5 important points to bear in mind during your evaluation process.
Coverage: Premiums can vary significantly depending on your pets' age, breed, location, and level of coverage. Lower premiums may come with higher deductibles or limited coverage, so don't settle!
Coverage limits: Determine the maximum amount claimable throughout the policy period. Some policies have annual limits, while others have lifetime limits.
Exclusions: Check what your policy plan does not cover. Most pet insurance policies do not include pre-existing conditions, spaying/neutering, or pet vitamins/supplements, among others. 
Insurer's Reputation: Read reviews, seek recommendations from other pet owners, and check if the insurer has any complaints or regulatory actions against them. 
Additional Coverage: Some insurers offer policies that cover pet funeral-related costs, or even liability in case your pet causes damage to someone else's property or injures another person. 
Whichever policy you decide on, remember to take the time to do your research, compare and consider, and thoroughly review the policy terms and conditions to ensure you have a clear understanding of the coverage.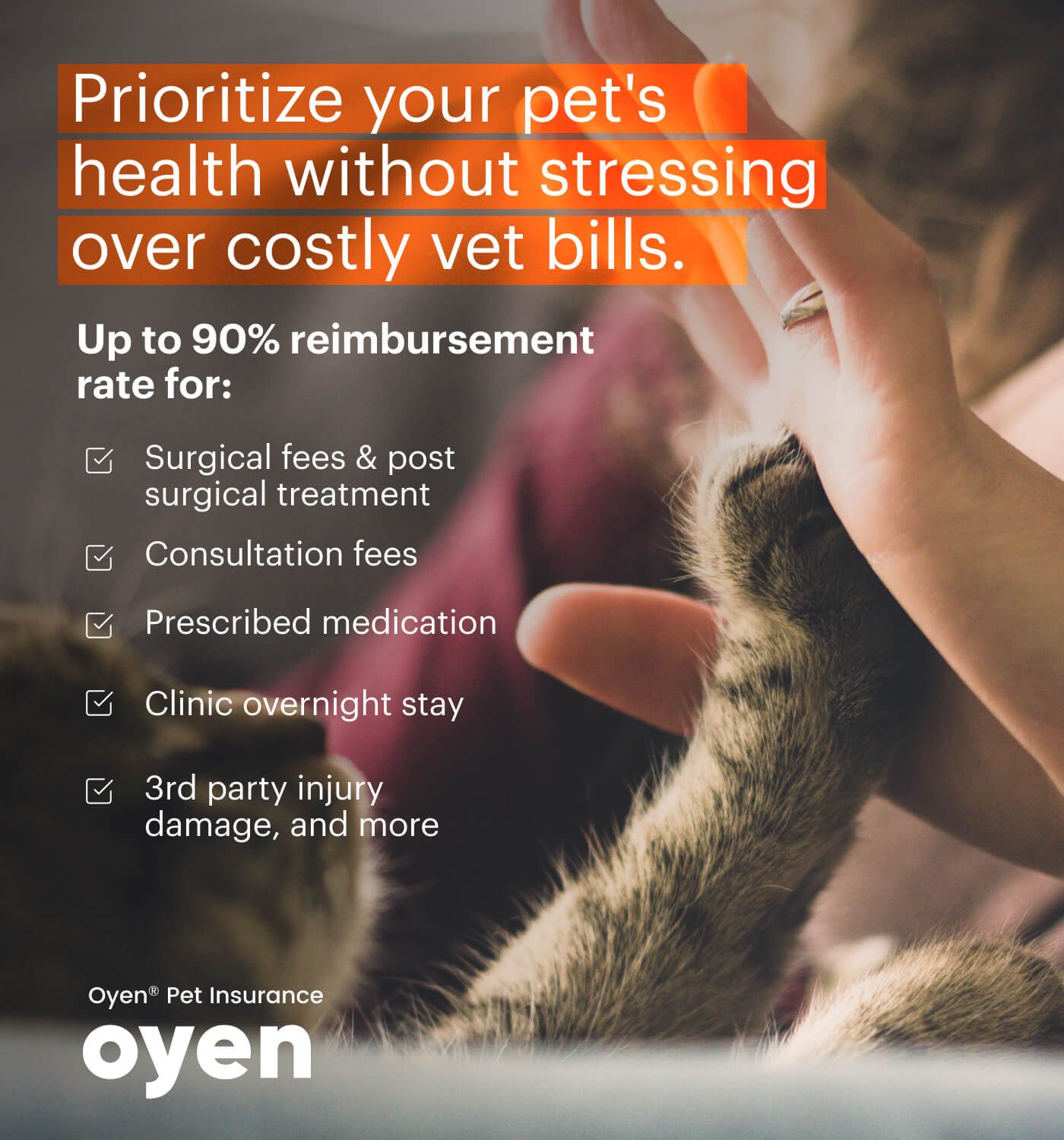 Oyen Pet Insurance Helps You Stop Paying for Your Own Vet Bills
Oyen is Malaysia's No. 1 Digital Pet Insurance Platform, offering comprehensive coverage for all your pet's needs be it vet consultations, surgeries, diagnostic tests, or medication. With Oyen's online platform's user-friendly interface and responsive customer service, it's incredibly convenient to claim reimbursement for your pet's expenses from any registered vet clinic in Malaysia. 
Oyen has already provided over RM100 million worth of protection for pets, thereby establishing the company as one of the most trusted choices of pet insurance providers among pet owners across Malaysia.
 ❝My cat Nico suffered a bad fall and required surgery and hospitalization. The insurance provided by Oyen helped me to offset the cost of Nico's medical treatment. This was a big burden lifted off my shoulders. The claim process was painless, and I was well informed throughout the process.

❞

– Aniza Y.
❝

My cat suddenly fell sick and had to perform blood test to identify the illness. So the vet bill has already cost a few hundred. But fortunately there was Oyen. The whole claiming process was really smooth and efficient, they kept me updated all along. I highly recommend Oyen for pet lovers, in order to have a peace of mind for future vet bills.

❞

– Michelle S.
What Does Malaysia's Leading Pet Insurance Provider Have to Offer? Here is an Overview of Their Policy Plans.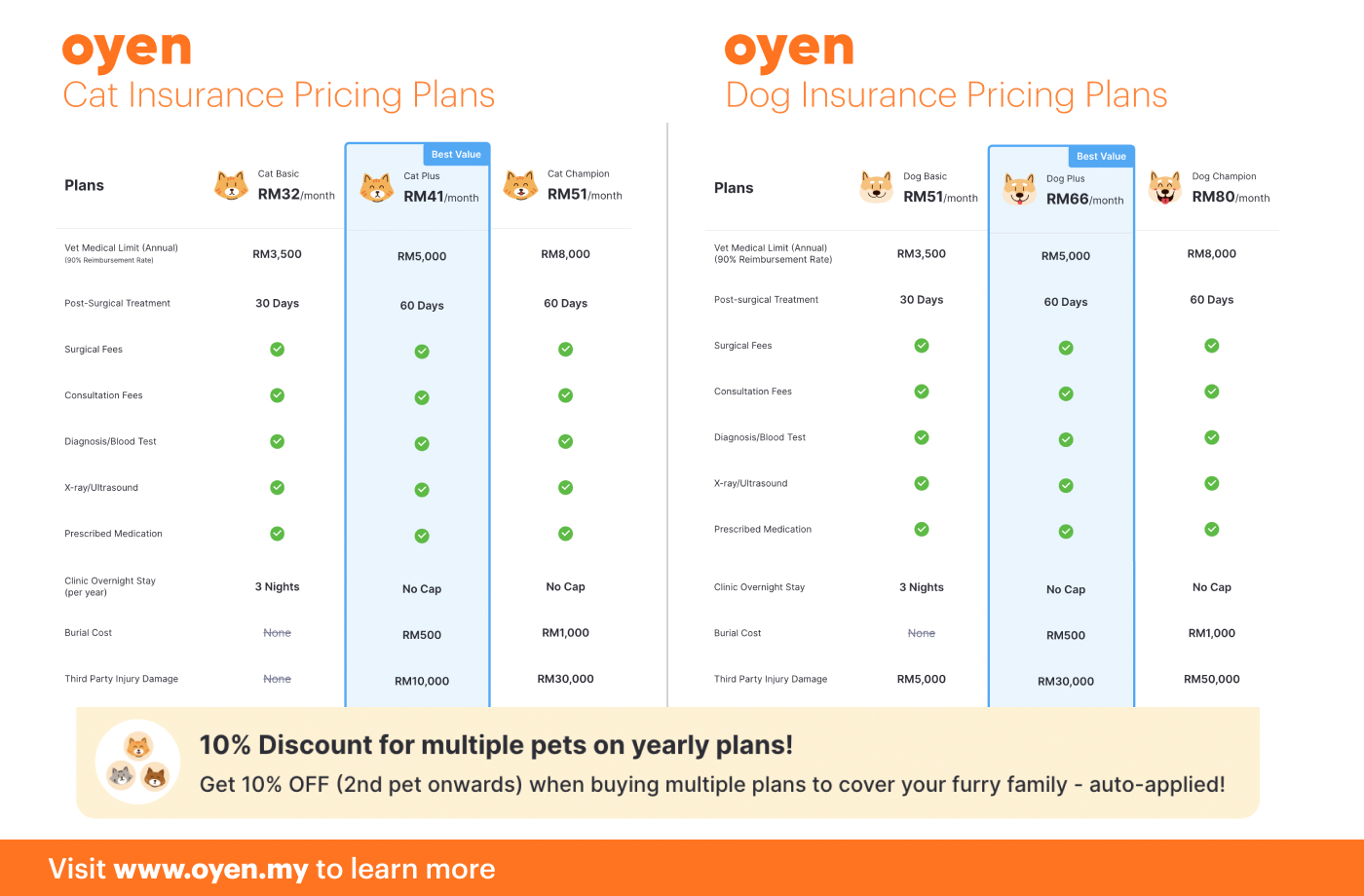 Here's some of highlights of Oyen Pet Insurance
You can visit at any vet clinic in Malaysia, there is no panel

No health checkup needed, and no microchip needed for cats

Reimburse your pet's vet consultation fee, surgical cost, diagnosis tests like blood test and x-ray, prescribed medication, clinic overnight stay.

Claim for both in-patient and out-patient medical care costs
Pet insurance offers numerous benefits that help pet owners maintain the health, well-being, and happiness of their beloved furry friends. By prioritizing your pet's health, pet insurance allows you to focus on what's best for your beloved companion without having to constantly stress over financial constraints, freeing you from the burden of using your savings or struggling to afford necessary care.
Want to know more about Oyen? Head over to their website at www.oyen.my to find out more.
Since you've made it this far, use our promo code "MEDIKURIN10" when you get any Oyen Plan for RM10 Grab Voucher cashback.
Click here to get FREE insurance quote for your pet now www.oyen.my